Rising Stars
We loved all our Shooting Stars from the first litter so much that
Laura was reuntied with Jack (Eng/Am Ch. Blueberry Hill) and on 4-9-98
delivered us with some more stars.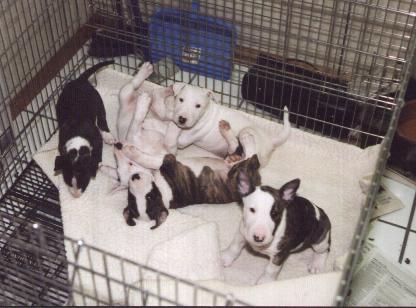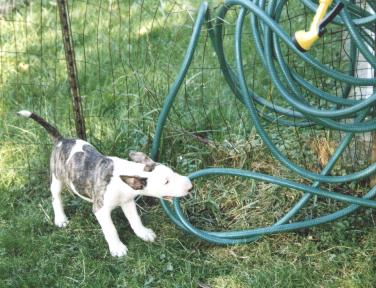 Ada learning how to water the yard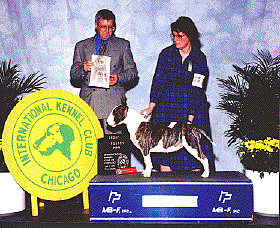 Ch. Horizon's Harlequin Romance
(Eng/Am Ch. Blueberry Hill ex Ch. Horizon's Ruffin Roulette)
Better known as
Ada
NEWSFLASH:
Ada finishes on 6-20-99 under breeder judge Rich Ciecwisz by going WB, BOW
at Chain O' Lakes KC (Ft. Dearborn Bull Terrier Club supported).
Owned by: Cleo Parker (Nuance Bull Terriers)
Co-owned by: Kevin and Patti Gardner
Bred by: Kevin and Patti Gardner / Paula and Rocce Grecco
---
Horizons Home | Horizons Bios | Laura | Our Start | Links |

Horizons Past | Breed Info | You Don't Know Bull | Horizons Awards |

Copyright © 2001 - Horizons Bull Terriers
All Rights Reserved