Laura
Horizon's Ruffin Roulette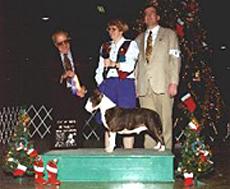 (Ch. Horizon's Ruffin Roulette)
A Partnership is Formed
A historic date on Horizon and Ruffin's calendar would be 1-13-94, this is when Ch. Horizon Ruffin Roulette or better known as Laura (nickname:Lolly) was born. Little did the Grecco's or Gardner's know at that time that everything would be coming down from that breeding. Paula Grecco and I had other irons in the fire but, little did we know that this iron would be the hot one. In 1993 I had hit another wall in my breeding program and wanted a litter badly. Paula suggested that I lease Lulu (Ruffin's Reflection by Batteries Included) at first I turned her down but, fortunately for us I reconsidered. It was to be a mutual choice of stud dog and after some discussion I decided on Nuance Nominee or better known as Grant from Cleo Parker's stable at Nuance. He hadn't been used at stud and was a relatively young dog fresh off a win at the BTCA national specialty. That breeding produced Luke and Laura and we really wanted a girl so we kept Laura. Being best friends with the Grecco's and by naming Laura with both our prefixes we eventually decided to be co-breeders and co-owners on anything we kept from here on out coming down from Laura. A Partnership bonded with a friendship was formed. To make a long story short without that breeding we would both be lost today.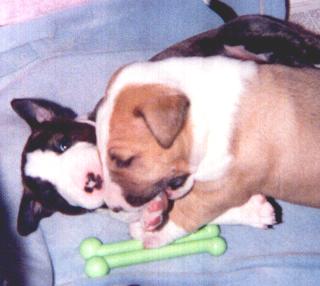 Luke and Laura
Sadly at the same time, Paula had Laura's grandmother expecting litter of puppies, unfortunately she lost the litter and mother to cancer. So now everyone was relying on Laura heavily. Laura rewarded us beyond our expectations. To meet the family, click on the links below.....

Shooting Stars

Rising Stars

Future Stars

Grandkids
Learning how to show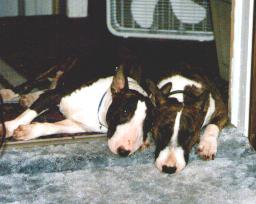 Laura with her best buddy Mackey (Old Forge Vindication)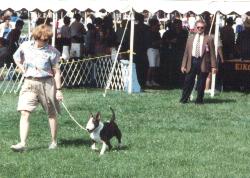 Laura winning her first major under Frank Alhino at the Edwardsville KC in St. Louis on June 3rd, 1995.
Laura gets her ears up..watch it!
---
Horizons Home | Horizons Bios | Laura | Our Start | Links |
Horizons Past | Breed Info | You Don't Know Bull | Horizons Awards |
Bull Terrier Ring | Guestbook | New Shots |

Copyright © 2001 - Horizons Bull Terriers
All Rights Reserved