Bullies Of Horizon's Past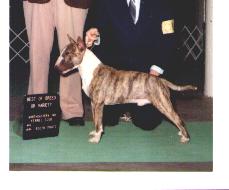 First there was one then there was another"
Ch. Honeytree's Hobgoblin
ROSCOE
1983-1996
This was our second bull terrier and the second in a row to be shown to an AKC championship. Roscoe came to live at Horizon on 8-28-83 from Honeytree Farms and was bred by Dick and Peggy Selk. He wasn't that famous but, I bet you recognize his sister though!!
Roscoe with his sister before she was famous.
Did you guess yet???? Yep you are right the famous mascot for bud lite...Spuds Mackenzie.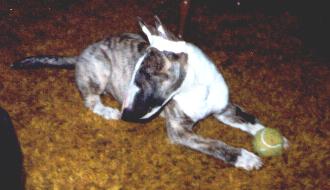 Roscoe at Horizon
Roscoe eventually went to live with my friend Eric Pangman in Madison,
WI and finished his days there being spoiled every inch of the way!!
Old Forge Vindication
(Ch. Emred Top Gun of Brobar ROM ex. Old Forge Tiger Lily)
Mackey
Born 3-14-90
Mackey came to live with us soon after Patti and I were married. She quickly won a place in our hearts. Mackey was off to fast start on her show career too and quickly had 13 points all under breeder judges.Unfortunately I decided against continuing her career as there were some question marks on her siblings health. Two passed on at an early age dueto kidney failure. Mackey passed her kidney tests with flying colors and is still healthy at the age of 9. I know she would have continued to have a wonderful show career and no doubt would have made a wonderful mother but, I just felt the risks were too great. I only have one regret as she deserved her championship and I should have showed her to get the last 2 points. I still believe I done the right thing by having her spayed. So even though Mackey didn't go on to have an elaborate career or produce beautiful puppies she still delights us with her presence here at Horizon!!
Mackey should have been a water dog as she is always ready to get wet!
Note: For more information on health problems in the AKC Bull Terrier check out this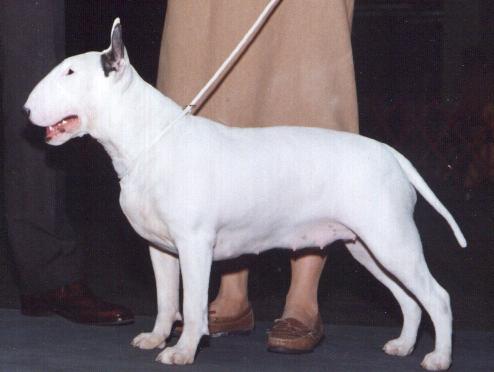 Ch. Shavin Kingsmere Chatterbox ROM
Edith Ann
"Edie"
Finalist 1993 Silverwood
Edie came to live with us on 7-9-91. Paula Grecco called me one day to tell me Linda Lethin of Kingsmere had a litter of puppies by Son of a Gun ex. Shavin Kingsmere Chatty Cathy. Linda was looking for show homes and we were interested so Paula and I went in together to make the plunge. We were delighted as we picked her up in Indianapolis at 8 weeks of age and questioned what the rest of the litter must look like as this puppy was incredible. Well it didn't take long for Linda to realize she that she trully was something special. So ultimately Edie went back to live in CA and still to this day Chatters away at Linda and Terry. She was a cheeky one as she liked to let you know she was there. She was one of my favorite ones though as she worked herself deep into my heart. To this day I still think of her often as she was special to me. I know that she is happy being pampered as Linda and Terry of Kingsmere cater to her whims- That is all that matters to me!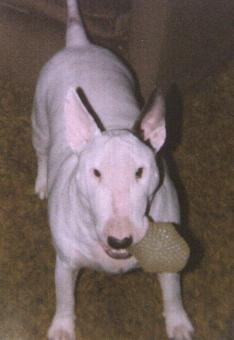 No, it's mine...case closed!
Puppies are always cute, right?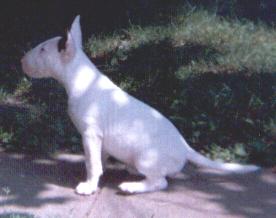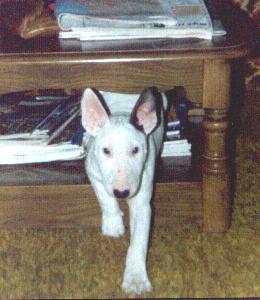 More of the cute puppy....
---
Horizons Home | Horizons Bios | Laura | Our Start | Links |
Horizons Past | Breed Info | You Don't Know Bull | Horizons Awards |
Bull Terrier Ring | Guestbook | New Shots |

Copyright © 2001 - Horizons Bull Terriers
All Rights Reserved